My mission is to create a community of emotionally connected leaders and inspire men to feel more, be more, and do more.
I don't know about you, but I get immense fulfillment from helping others achieve their dreams. I think we all like to help others get ahead. Have you ever noticed that most people are willing to help you once you have articulated your dreams and your vision? I see this a lot. But even though I am good at sharing and describing my passion, I often stumble over the question, "How can I support you, Mike?" 
Do you relate? Have you found yourself unable to respond when someone responds to something you shared with, "That sounds amazing! How can I support you?" For me, it feels embarrassing not to have an answer to such a generous question. I feel like I let down the person offering help. It's like I have boasted about having yummy cookies, but when they ask to have one, I close the box and say, "No!"
That is not the kind of man I want to be.
When I don't have an answer to a query from someone offering help it's like I've bared my soul, shared my passion and inspiration, drawn in the listener, and then yanked the rug out from under them because I could not answer a simple question.
I have given this conundrum a lot of thought and come up with an answer to questions regarding how to support my mission of creating a community of emotionally connected leaders and inspiring men to feel more, be more, and do more.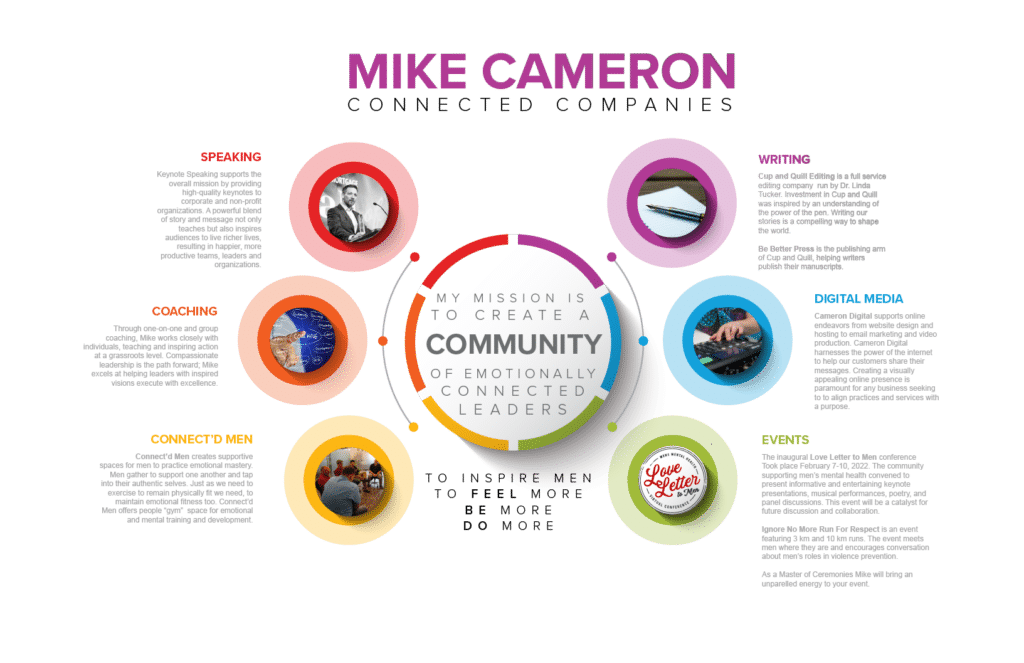 If my mission excites you as much as it does me, I can offer a clear path for you to support it. I can also offer ideas for crafting a purpose statement of your own to share with others, enabling them to help you pursue your purpose and achieve your goals.
Times of Transition
Exiting the business I spent sixteen years building was bittersweet. Although I was excited about starting on a new path and proud of my accomplishments, the sale marked a big transition. My business began as a one-person show in my basement office and blossomed with the help of my business partner into one of the preeminent mortgage brokerages in the country. I was proud of what we had built, but something was missing. What used to fill my soul no longer hit the mark as it once had.
Circumstances changed, "life happened," tragedy struck, and my passion and priorities shifted. After the murder of Karissa, my drive to make an impact in the mortgage industry morphed into a commitment to make an impact on the world. I had achieved "success," but it was time to find "significance."
In November 2019, I published my first book, Becoming a Better Man: When Something's Gotta Change, Maybe It's You! In December 2019, I sold the business, intent on hitting the road on the speaking circuit for 2020.
First, though, I took a little time off early in 2020. I traveled to New Zealand to run a 100-mile ultramarathon for my 52nd birthday. In March, I returned to Canada refreshed, rejuvenated, and ready to #MakeBeautifulShitHappen.
You know what happened next. My last live engagement was March 6, 2020; then COVID shut down the world. The Covid shutdown made for a challenging time as I transitioned to a new reality. At the same time, it created some possibilities I might otherwise not have considered. As a result, I spent the next two years refining my mission and ensuring it was clear, concise, and actionable.
To create a community of emotionally connected leaders and inspire men to feel more, be more and do more.
Armed with a clear vision, my next challenge was to align my business pursuits with both my vision and values. I made my speaking business virtual thus saving time that would have been spent traveling. I also continued to expand my executive coaching practice with an eye toward developing emotionally connected leaders, one by one.
Since March of 2020, I have been invited to participate in, develop, and execute various educational events. In addition, supporting some of my business clients in their technology requirements showed me a gap in the digital media space, which led to my investing in a digital media company with my adult son.
Writing has always been something I enjoyed. Covid-related travel restrictions freed time for me to partner with my editor and offer a sixteen-week writing workshop. This partnership was incredibly satisfying and successful. In early 2022, I invested in Cup and Quill Editing and Publication services, becoming a full partner, and helping execute some aggressive expansion plans.
As a guy who likes to be intentional about what I do, I knew the reactive nature of the last twenty-four months was reason to pause and reflect. Mindful that focus is sometimes challenging for me, I took time to ensure my mission was still clear and my various businesses were serving the objectives tied to my mission.
With the help of my coach, I clearly and succinctly defined the overall mission.
To create a community of emotionally connected leaders and inspire men to feel more, be more, and do more.
Then, I reviewed my various activities, making sure none were mere distractions and all served the primary purpose. The result was a graphical representation of the mission, the businesses, and summaries of how the latter supported the former.
I had it printed as a poster that I framed, and hung in my office; I stare at it daily. The process leading up to my creating that poster helped me craft straightforward responses to people who ask how to support my work. All revenue generated by these income streams serve and expand the reach of my work.
So, if you love my mission and are looking for ways to support it, consider whether you have needs that my businesses can help you meet. I take great pride in the quality of our team's services.
What about you? When someone says, "I love what you are doing. How can I support you?" How do you answer that question?