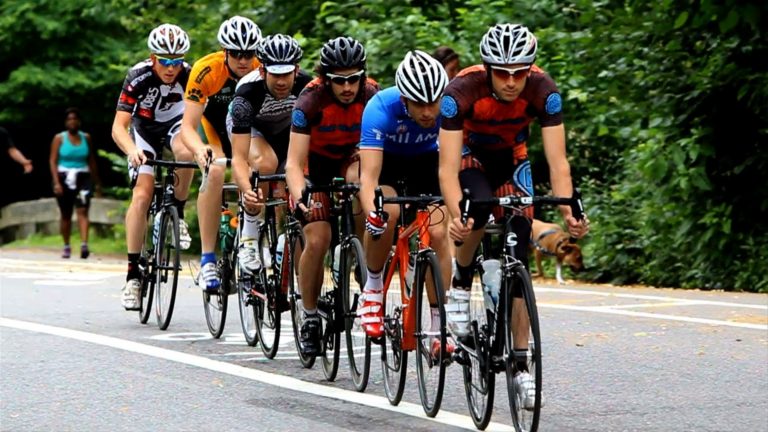 A couple of weeks ago I had the opportunity to participate in the 2015 MS Tour.  The tour is a 180KM round trip bike ride from Leduc to Camrose.  I was honored to be part of a fantastic team made up of members of my cycle family from Exist Cycle studios where I instruct from time to time.
The ride out from Leduc to Camrose was relatively easy as we had a tailwind with us most of the ride.  If you have ever cycled outdoors in Northern Alberta you know that the wind can have a tremendous impact on the intensity of your ride.  The weather was cool but the rain held off for the first leg of our ride.  The ride home, back from Camrose to Leduc, was not such a pleasant story.  The wind had definitely picked up over night and was now hitting us smack in the face.  Imagine if you would, trying to swim upstream in a river.  That is what it is like riding into a strong headwind.  Fortunately there is a solution.  This is where the teamwork aspect comes into play.  The solution?  A paceline!  A paceline allows the lead rider to take the bulk of the effort and allow the riders behind to enjoy a much easier ride.  The impact of drafting the lead rider is substantial.  So much so that you can pretty much pedal every second or third stroke to stay with the lead rider.  I have had very little opportunity to participate in a paceline as I tend to train alone and drafting in races is illegal.  The Sunday ride home, while challenging, was extremely rewarding and fun.  I was surprised at how well a small group in a cycle community could come together mid ride with no preparation or planning.  My first experience with the paceline included not only one of the riders in our Exist team, but also 2 complete strangers.  I found it so exhilirating to watch it come together.  The lead rider taking the brunt of the wind while the tail rider would take their rest and after a minute or two would push up to take the lead allowing everyone to drop back and rest.  Eventually we dropped off the line to wait for the rest of our team and ultimately created another paceline with the team.  It was fun to watch as another stranger ended up joining our line and pulled his weight.  Another piece that I thought interesting was that one of our team mates was riding a crossover bike and not a full on road bike (much more difficult to ride long distance) so the team allowed her to stay at the back of the line and enjoy the draft for most of the ride.
To me this was a fantastic illustration and reminder of the power of both community and teamwork.  When we work together as a collective we can make the effort of the individual so much easier.