So today I did my first sprint triathlon. It was the 2013 Edmonton ITU Triathlon World Cup and man was it well run. This was a big event and a qualifier for worlds for 2014 which will be hosted in Edmonton. To qualify for Worlds you needed to place in the top 8 in your age group. Well I have been having success with some drastic speed improvements in my training over the 30 weeks that I have been following coach Craig's plan and I'm not going to lie, the thought of qualifying might have crossed my mind. There are often less than 20 in my age group so finishing upper middle of the pack did not seem out of the question.
I was also pretty excited to hit the race this year with my son Christopher competing in the KOS 12/13 year old event on the same day. My heat started 45 minutes before his and given his much shorter distances it was a real possibility that we might come close to crossing the finish line together. How cool would that be! We both went down to Hawrelak Park on Saturday for the race briefing, got our bikes checked in, and had a pasta lunch on the grounds. We spent a bit of time checking out some of the vendors on site and getting acquainted with transition entrances and exits. Overall a great afternoon.
After a good night sleep Christopher and I headed to the park and ride at about 7am with all our gear. After the now traditional stop at Tim Hortons for my coffee and his breakfast sandwich, we headed to the race. My heat was at 10:50 and Christophers at 11:35 but transition setup closed at 9am. We arrived at the park at about 7:45am and got our transition area all set up. Me with my towel, bike shoes and runners, him with a towel, runners and shirt. We also attached his new pump to his bike so he was now all set in the event of a flat. Now the waiting began. We wandered, we watched some of the other age group racers and generally killed time until about 10:20 when it was time for me to go to the staging area to get ready to race. The water was a balmy 19 degrees and it would be a wetsuit swim today. I was very pleased about that as I have a brand new wetsuit I had yet to try out.
That half hour between 10:20 and 10:50 felt like the longest 30 minutes of my life. We were fortunate to be given a few minutes for a quick warm up swim which I took advantage of. Next thing I know I'm on the starting podium and the starter is announcing 1 minute to start…. 30 seconds…. 15 seconds… On Your Mark… BWAAAAA! and we're off! OK, 10 hard strokes to push ahead of the pack and keep going. Great in theory except everyone else has the same idea so actually getting out of the pack does not happen. Arms and legs flailing wildly, trying to get a breath while finding your swim rhythm, this may only be 750 meters but this ain't no pool swim cowboy! So the 'Suck' set in very early in the race for me (I referenced this article in an earlier post). I took in a mouthful of water, went out way to hard, lost my breath and simply could not find it. If you have been following me at all you know I regularly do 3000 to 4000 meters in the pool without any trouble at all. This was substantially different. I felt panicked. I felt constricted by my wetsuit and I really had to pull in my mental toughness to get through this. I love swimming in the pool now but there was honestly nothing that I was enjoying about this today. Remember when I mentioned the thought of qualifying for worlds might have entered my mind pre-race? Well at this point they promptly left. I tried to float on my back to catch my breath and get my rhythm back, I tried standing in the chest deep water of Hawrelak Lake, nothing I did could settle down my heart and my breathing. I managed to push through the worst swim of my life and climb out on the beach running, well walking quickly, to transition. My goal for the swim was to break 15 minutes. As I run toward transition my brother yells out "14:30 by my unofficial time!". Are you kidding me? That felt like 30 minutes! The good news is that leaves lots of room for improvement.
T1 was slow as I really needed to regroup after that swim. Shoes on, bike off the rack and off we go.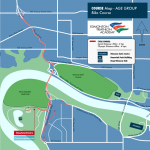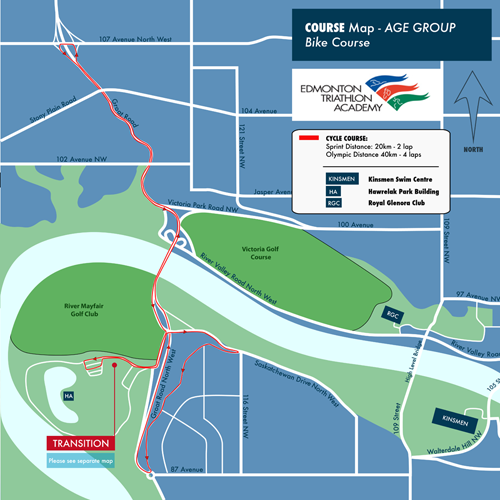 First leg of the 20KM bike course was a climb up Emily Murphy hill! Ouch. Although steep it was actually very short. Once you made it to the top, a quick jaunt across Saskatchewan drive setup a great downhill along Groat road where I hit speeds of over 50KMH. I could feel some cramping in my calves so made sure I drank a fair bit on the ride. It was a two lap course that really allowed for some speed on the downhills and overall a really enjoyable route. T2 went a little quicker as all I had to do was change shoes and drop the helmet. Finishing off with a 5km run. I had hoped to do the run in the 23-24 minute mark but knew I was running out of gas. I finished the run in 24:43 so while not exactly what I had hoped for I was not overly disappointed. My overall time was 1:22:40 and Christopher saw me on the run and came in just about 5 minutes after I did. So while we didn't get to cross the line together I was right there when he came across! You can see the full results here at http://zone4.com
I am so glad that I chose to do this race to get some race experience before the bigger races. If that swim start had happened to me on my half iron I might have been in real trouble. Hopefully I will know better for next time. Overall a great day shared with my son who improved his last years time by 10 minutes. A great experience and only 2 weeks to go until Great White North!! Bring it on!
.