Alright, I guess it is time I admit it. I have signed up for Challenge Penticton (formerly Ironman Canada).  What exactly does that mean you say? Well, it means I need to get my butt in shape. Challenge Penticton is an Iron distance triathlon set in the Okanagan on August 25, 2013. We begin our triathlon with a 3.8 KM swim in Lake Okanagan beginning at and returning to the Kiwanis walking pier. You can see the swim route here. Once we have completed the mere 3800 metre swim we hit the transition area and saddle up for our 180KM ride through the Okanagan, south to Osoyoos then as far east as Keremeos. This route includes some wicked mountains including the Richter Pass and Yellow Lake. The Richter Pass includes a 9KM climb and Yellow Lake is not a lot less.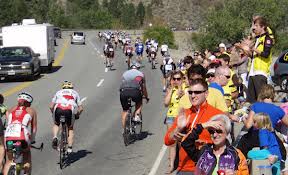 The upside of these climbs is that athletes post speeds coming down the backside of the hills of up to 80KMH. The bike ride finishes in the transition area back where we started our swim and leads us into our 42.2KM marathon to complete the race. Sounds like fun, right?
So to be honest I committed to this race in August of this year and, while I have told some of you, I have been a little reluctant to let it out publicly because that would make me accountable ;0) Well it's time to step up and admit that this is going to happen. Yes, I'm a little nervous about the commitment this will take but also extremely excited about what this will take from a physical and mental preparation aspect. For those of you that don't know me let me tell you a little about my background so that you can get a sense of where we are starting from.  I'm sure you would expect someone who has signed up for an iron distance triathlon has a fair bit of triathlon experience. Well, not exactly. You see prior to August 17, 2012 my triathlon experience consisted of 4 years of taking my kids to compete in the Kids of Steel triathlons.  Wow, what an experience that was. That will have to be another post but this year both my 9 year old daughter and my 11 year old son did the Edmonton ITU triathlon. Talk about a proud papa moment. Unbelievable! When my 11 year old finished and we were hanging around Hawrelak Park with my brother and sister who did the Olympic and Sprint distance races respectively, Christopher looked at me and said "You should do Kelowna with me Dad". I immediately agreed that would be a fantastic time for me to get started. So together we did the Kelowna Apple Triathlon. I did the try-a-tri and Chris raced in his age group. The try-a-tri consisted of a 300 meter swim, a 15KM bike and a 3KM run. Certainly doable for someone who runs somewhat regularly and has completed a marathon and a few half marathons in the past. I absolutely fell in love with the sport!! So much more exciting than just running alone! I was hooked!
Ironman Canada was the following weekend in Penticton and I had already resolved in my mind to make that a goal, likely for 2014. Both my brother and sister had volunteered for Ironman Canada and my brother was planning on registering for 2013 if he liked what he saw. My sister was somewhat on the fence but was considering it registering for 2013. The next weekend while they were helping setup at Ironman Canada we stayed in touch via text and on race day I received updates on the event. The enthusiasm was contagious even via text. My sister texted me at 12:30 am Alberta time(11:30 BC time and only 30 minutes prior to the race cutoff time) to say that she had just watched an 82 year old woman cross the finish line. I was shocked, to say the least.  She said yes, for real and told me I should Google Sister Madonna. I did, you can too. Check this out. Well now the wheels are turning as I turn in for the night. I mean really, if an 82 year old nun can complete the race….. Well you get the idea.
The next morning registration was opened first for volunteers who wanted to compete in 2013. There is also a fairly long story about the change from Ironman Canada to Challenge Penticton which I will leave out for simplicity sake but the 2013 course would be identical just the race ownership and organization would change. So the following is my early morning texting with my sister. Me in Edmonton, her in Penticton:
Me: 8:13am Did you sign up yet?

Her: We are in line. Doesn't open til 9 ;0)

Me: Sweet!! I tweeted your text about the 82 year old. Lots of buzz.

Her: I'm sure. That is just crazy eh

Me: Yep. Makes a guy wanna sign up.

Her: I bet :)!
No more texts until….
10:04am
Her: I did it!

Me: Woot!! Woot!! Awesome!!! That is so cool! D done too?

Her: Yep. Your turn??

Me: Don't I have to be there? Can I do it online?

Her: Have a look online. challenge-penticton.com. I think you have to be here today but it opens tomorrow.
Lull in the texting. Now I am thinking that if I am going to do an iron distance race it would be pretty cool to do it with my brother and sister. Hmmmmmm…….
11:27am
Her: Are you seriously considering? Do you want us to try and get you a code?

Me: Yes, see if you can. You and the 82 year old are inspiring. Was going to wait for 2014 but would be cool to do it together.

Her: You sure? We'll go down and see.

Me: Yeah, I can always cancel if I need to
No texts for a bit…
11:59am
Her: Your code is SIPR-DGFR-JRTG-LDDX

Me: Sweet!!!

Her: You owe D $599

Me: Done!!
And there you have it.  I am registered for Challenge Penticton in 2013!! It has taken awhile for me to come out and publicly admit it but as I continue training and start to feel more and more comfortable in the water I am letting more and more people in on my little 'secret'. I am planning on documenting my journey as much as I can in the hopes that others might be inspired and learn from my experience.  So check back regularly and share your experiences in the comments below.