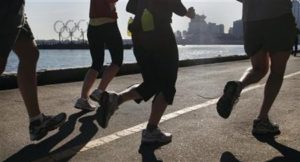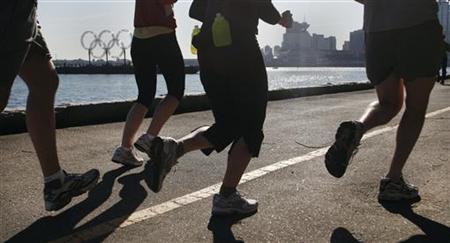 So last week I was in Vancouver for our annual Canadian Association of Accredited Mortgage Professionals Mortgage Conference.  Like a good little athlete I brought my running gear intent on making sure that I got out for a few runs while there.  Historically where the intent has always been great the execution has been lackluster at best.  My flight landed at about noon Vancouver time and I was at the Pan Pacific hotel by about 1:30pm.  The conference hadn't started yet and my business partner had yet to arrive.  Perfect time to go for a run.  The sun was shining, it was 8 degrees out.  A far cry from the snow and minus 15 of Edmonton.  Time to take advantage. Fortunately I was able to garner an early check in and headed up to my room to change.  The excitement was building.  I grew up in Burnaby and before I moved to Alberta I spent 4 years in downtown Vancouver.  This run was going to be a bit of a homecoming.  Not to mention the fact that I have signed up for the Vancouver half marathon in May 2013.  I felt good.  I felt inspired.  Tomorrow was to be my first CAAMP board meeting, I was in Vancouver and I was going for a run on the seawall!!
I hit the front door and asked the bell man the quickest way down to the seawall.  He pointed me down Waterfront Street, said just down the stairs around the building and you are there.  So excited.  Head phones in, Runkeeper on, running playlist queued and off I go.  I find the stairs and bounce down like a gazelle feeling full of life and energy.  Runkeeper kicks in at the 1km mark to tell me my current pace is about 4:18m per KM.  Yikes, that's a little fast, won't be able to sustain that.  The waterfront is beautiful and I'm dodging and weaving the other pedestrians on the seawall.  Wow! What a great way to start the conference week!! Runkeeper chimes in at 2km and I'm still on about a 4:30 pace.  Hmmm….. I wonder if I can keep this up for 10?  I'm feeling pretty good but have not mentally committed to that pace for the entire run yet.  It is the end of November and I am on a run in my shorts and t-shirt overlooking the Pacific Ocean.  It just doesn't get much better than this.  I've decided that I will do an out and back and likely run out about 5.5 to 6km so that I can finish my 10km without hitting the stairs on the way back.
At the 5km mark Runkeeper pipes up to say that I am still sitting at a 4:32 pace.  OK, now I am committed to making this 10km a new PB.  Last time I ran a 4:30 pace was when I was doing sprints for 500m at a time.  Now it looks like I could finish an entire 10km at that pace.  I am feeling fantastic.  No cramps, no stress in hips, knees or calves.  This could actually happen!! I push on and turn around about 5.6KM, although I wasn't about to break stride trying to read the GPS.  Somehow, for me, heading back always seems a little easier than heading out and I usually end up with a negative split for my out and backs.  I hit 7km and am still on pace and feeling great although about this point there is a stupid seagull in my path that does not seem to be moving and of course waits until I am almost on top of him before he takes off.  Oh well, all part of the Seawall experience I guess.  I hit 9km still on pace and all I can think about is "I hope I don't see someone I know who expects me to stop and say hi".  Guess what?  I run into Gino Tieri from MCAP with about 750 meters left in my run.  Gino spots me, says "hey!".  I am in the zone now.  I give him as polite a 'point' as I can and hi five him as I motor on by.  I'm sure he'll understand ;0)
I finished my run with a Personal Best time of 45:37 with an average pace of 4:33.  My notes on my Runkeeper activity looked like this:
Holy Mother!! Yeah baby!!! #yvr #seawall Remember when 4:30 was a 500m sprint!! Pumped!!
I was so fired up!! Now, you have to understand… I am NOT a fast runner. Period.  My 'need for speed' so to speak stemmed from a conversation I had with a business coach May 22, 2012.  We got chatting and turns out his background is physical education.  He has coached elite athletes cycling.  I told him I wasn't quite sure what I would focus on next, whether it would be distance running or perhaps I would just focus on the 10KM event and work on my time.  This was obviously before I even thought about Challenge Penticton.  So he looks at me and asks me how fast I run a 10KM and I proceeded to brush him off and said "aw, I'm not fast at all".  He pushed on and asked again "What is your time for a 10km?".  So I responded that I am usually around the 60 minute mark.  He replies with "Wow, that is slow".  Nice!!  Thanks a ton. He carries on to say "Seriously a lean, fit guy like you should be down around the 42 minute mark".  I said well, I don't know about that but my goal for my next race is 57 minutes with a stretch goal of 55 minutes.
So while I really felt his 42 minute suggestion was out to lunch, it really got me thinking; "Have I been limiting myself with my belief that I am a 60 minute 10KM guy?".  So on May 24, 2012 I went out for a run and decided to challenge the notion that I was a 60 minute 10km guy.  Guess what?  I ran a 54:10!! You can see it here on runkeeper. Holy smokes!  I guess I better reassess my time goals for a race.  I just beat my stretch goal in a training run.  That run for me was a real eye opener and really spoke volumes to the fact that so many times our own false beliefs limit what we accomplish.  So the moral of this story is:
Constantly challenge what you believe is possible and I can guarantee you will surprise yourself!