Bob is the only individual who has both a CFL Grey Cup ring and an Olympic medal. This is a man that is no stranger to hard work. Bob has found a way to harness his stellar successes, Eastern philosophies and life experiences into programs that inspire everyone to enjoy his level of exceptional triumph. Bob has done the hard yards and achieved real and outstanding runs on the board, as a player and coach in sport, business and life, to gain rare credibility and know-how to guide everyone to success.
'Success Breeds Success'
After finishing high school as a star multi-sport athlete in Saskatoon, Saskatchewan, Bob headed west to Simon Fraser University in Burnaby, British Columbia. 'Big Bob' (6'4″ & 275 lbs.) quickly became a standout in both the Wrestling and Football teams and won the Simon Fraser Scholar-Athlete Award.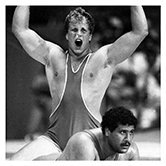 There were setbacks. Bob ruptured a disc in his back and had surgery just 21 days before the 1984 Los Angeles Olympic Games.
Testing concluded it was impossible for Bob to regain his form in time to compete. Unfazed and committed to competing and achieving his goal, Bob pressed on. At just 21 years old, he found an inner resolve and wrestled his way against the odds to a Silver Medal.
In this episode we talk a lot of philosophy, we talk about mentorship and what it takes to be successful.
Bob is all about "Getting comfortable being uncomfortable". He has studied at Harvard, Queens and pushed himself to compete in Ironman competitions in an effort to get uncomfortable.
Bob is determined to be worn out not rusted out.
Bob is the self professed biggest cheat in the world. He talks about emulating success by copying the techniques and tactics of others that have done what he wanted to do. He calls it R & D. No not research and development, rather rob and duplicate.
In our conversation we explore the different styles of learning and the importance of understanding your style of learning.
We discuss goal setting from an Eastern philosophy perspective and the importance of relationships. Bob shares how he cultivates and fosters 30+ year relationships.
I think you will really enjoy Bob. Let me know what you think!
"A good life is when you assume nothing, do more, need less, smile often, dream big, laugh a lot and realize how blessed you are for what you have."